Xirrus XH2-240 Outdoor Access Points

High Performance Wi-Fi for Outdoor and Harsh Environments
Cambium Networks have acquired Xirrus! For the latest Xirrus' products please visit our Cambium Networks site.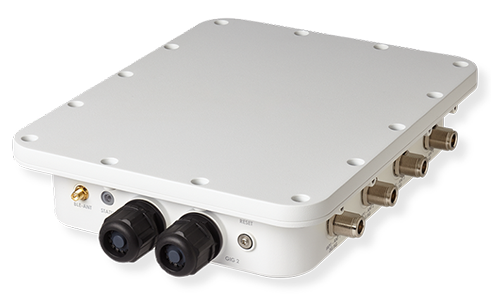 Overview:
802.11ac Wave 2 Dual Radio 4x4 Outdoor Access Point with SDRs
The XH2-240 is a high-performance Wi-Fi access point designed for ruggedized and outdoor environments. It delivers extensive mobile access with Wi-Fi capacity up to 6.9 Gbps and supports the latest multi-user MIMO technology with up to eight simultaneous client communications. Designed with a powerful integrated controller, layer 7 application visibility and simple user access with EasyPass, the XH2-240 provides a seamless Wi-Fi solution for outdoor or extreme environments, including campuses, transportation hubs, concert fields, refrigeration/chiller rooms, and more.
Software-defined radios support 2X the 5 GHz capacity per AP
Operates in extreme environmental conditions
2x the user/device density of other outdoor solutions
Flexible coverage options using external antennas
Manage from the cloud or on-premises
Benefits:
Unprecendented Wi-Fi Capacity
With dual core to 6 core processors and 2-16 radio platforms, Cambium Network Xirrus High Density Access Points meet the unprecedented demands for high performance and high capacity Wi-Fi networks in today's connected environment.
Extend the Life of Your Wi-Fi Network
Cambium Network Xirrus High Density APs are built on a modular architecture that sustains multiple generations of technologies without a need to replace infrastructure and extends the life of your Wi-Fi network.
Superior Wi-Fi User Experience
Every High Density Access Point with integrated controller and distributed intelligence, eliminates the need for a centralized controller and automatically adapts based to device capabilities for a superior user experience.
Complete Application Visibility and Control in Every AP
Cambium Network Xirrus delivers holistic application visibility based on Deep Packet Inspection (DPI) technology and provides predictable application performance by controlling up to 1,300 applications at the network edge. Applications or groups of applications can be allowed, blocked or throttled and policies can be schedule by device or across the network at specified times of day or days of week.
Automated Performance Optimization
Cambium Network Xirrus optimizes the network performance with Auto RF configurations. Cambium Network Xirrus High Density Access Points automatically choose the best available channel, band and power level without IT intervention. Cambium Network Xirrus High Density APs also customize user connectivity for the best performance based on each device capability.
Bonjour and Guest Services
Cambium Network Xirrus High Density Access Points include Bonjour Director, which allows easy access for Apple devices to access Apple services from across the network, and Guest Access, which provides secure access to guests via self-provisioning with optional sponsor workflow or through a non-IT guest ambassador. Guests can also use social media credentials to login or receive passwords by SMS or email.
Application Control
Firewall, apply QoS, and manage 1200+ application types under 15 categories using Layer 7 Deep Packet Inspection (DPI) and other contextual application detection techniques.
2.4GHz Optimization
Extended radio power control range enables reduced 2.4GHz cell size coverage to optimize channel reuse in dense scenarios and improve user capacity. Honeypot Mode helps increase available wireless device density through management of spurious association traffic.
5GHz Optimization
With its 2.4GHz and 5GHz software programmable radios the XH2-240 will help you easily make the transition to a 5GHz centric network, when you are ready.
Bring Your Own Device
Integration with Cambium Network Xirrus Access Manager (XAM) allows guests and employees alike to use non-corporate configured wireless devices while the XH2-240 enforces appropriate access policies.
Fully Ruggedized
The XR-24245H meets the requirements to operate in the harshest of environments. It is completely dust sealed and meets the requirements for IP65. The product has been tested to operate in temperatures as low as -40C and as high as +55C.
Specifications:
Access Point Specifications
Total Number of Radios
1 - 2.4 GHz / 5 GHz - software-defined radio (802.11 a/b/g/n/ac Wave 2)
1 - 5 GHz (802.11 a/n/ac Wave 2)
Radio Type
4x4:4, 802.11ac Wave 2
Maximum Wi-Fi Bandwidth
6.9 Gbps
Chassis Dimensions
29.84 x 22.22 x 10.6 mm (11.75 x 8.75 x 4.0 in)
Supported Standards
802.11a/b/g/n/ac Wave 2
MIMO Technology
MU-MIMO: Up to 8 streams
SU-MIMO: Up to 8 streams
Channel Bonding
Up to 160 MHz*
Bluetooth Technology
Yes, 1 RP-SMA Female
Wi-Fi Threat Sensor
Yes
Weight
2.49 kg (5.5 lbs)
Maximum Wi-Fi Backhaul
3.47 Gbps
Antenna Connectors
8 N-Type Female (4 per radio)
Maximum Associated Devices
512 per AP
Max SSIDs
16
Max VLANs
64
Wired Uplinks
2-1 GbE (1-PoE input)
SUPPORTS FOUR MODES: 802.3ad (aggregate traffic), broadcast, link-backup (failover), load balancing, mirrored
Maximum Power Consumption
25.5 W - 802.3at PoE+ compatible
Network Specifications
RF Management

In-band spectrum analysis
Dynamic channel configuration
Dynamic cell size configuration
Monitor radio for threat assessment and mitigation wired and wireless packet captures (including all 802.11 headers)
Wired and wireless RMON / packet captures
Radio assurance for radio self-test and healing
RF monitor
2.4 & 5 GHz Honeypot control – Increase available
2.4 & 5 GHz wireless device density through management of spurious 2.4 & 5 GHz association traffic
Ultralow power mode – maximize wireless channel
Re-use and increase wireless device density through tight power controls

High Availability

Supports hot standby mode for missioncritical areas
In-service AOS software upgrade process increases network availability for 24x7 operations

Environmentally Friendly
Supports ability to turn off radios based on schedule
IPv6 Support

IPv4 and IPv6 dual-stack client support
IPv6-only network
Increase wireless device density through control of unnecessary IPv6 traffic over IPv4-only networks
IPv6 functions: IP addressing, DNS, filters, application control, syslog, SNMP management, SSH, Telnet, FTP, DHCP

RFC Support

RFC 768 UDP
RFC791IP
RFC 2460 IPV6 (Bridging only)
RFC 792 ICMP
RFC 793 TCP
RFC 826 ARP
RFC 1122 Requirements for Internet hosts – communication layers
RFC 1542 BOOTP
RFC 2131 DHCP

Security

WPA
IEEE 802.11i WPA2, RSN
RFC 1321 MD5 Message-digest algorithm
RFC 2246 TLS protocol version 1.0
RFC 3280 Internet X.509 PKI certificate and CRL profile
RFC 4347 Datagram transport layer security
RFC 4346 TLS protocol version 1.1

Encryption Types
Open, WEP, TKIP-MIC: RC4 40, 104 and 128 bits
Authentication

IEEE 802.1x
RFC 2548 Microsoft vendor-specific RADIUS attributes
RFC 2716 PPP EAP-TLS
RFC 2865 RADIUS authentication
RFC 2866 RADIUS accounting
RFC 2867 Tunnel accounting
RFC 2869 RADIUS extensions
RFC 3576 Dynamic authorizations extensions to RADIUS
RFC 3579 RADIUS support for EAP
RFC 3748 EAP-PEAP
RFC 5216 EAP-TLS
RFC 5281 EAP-TTLS
RFC 2284 EAP-GTC
RFC 4186 EAP-SIM
RFC 3748 Leap passthrough
RFC 3748 Extensible authentication protocol
Web page authentication
WPR, landing page, redirect
Support for internal WPR, landing page and authentication
Support for external WPR, landing page and authentication
Support for Xirrus EasyPass Access services for employee SSO, BYOD, IoT and guest access

Regulatory Compliance

CE Mark:

EU CE Mark
EN300 328 V2.1.1 with DFS,
EN 301 893 V2.1.1 with DFS,
EN 301 489-1 V2.1.1 EN 301 489-17 V2.2.1
EN55022/EN55024
Wi-Fi Alliance (WPA2, VHT5G, Hotspot 2.0).
US FCC Part 15 subparts B,C,E with DFS (new rules)
Canada: ICES-0003, ICES 210 with DFS

Safety:

UL60950-1 2nd edition
CAN/CSA C22.2 No. 60950-1-07, 2nd edition,
2011-12
EN 60950-1:2006/A2:2013
IEC 60950-1:2005/A2:2013
EN 60950-22:2006+AC:2008 (outdoor units)
UL60950-22 (outdoor units)
CSA C22.2 No 60950-22-07 (outdoor units)
EN60601-1-2 (RF exposure)
EU Directive 2002/95/EC (RoHS)
EU Directive 1907/2006/EC (REACH)

Operating Temperature
-40°C to 55°C (-40ºF to 131ºF)
Storage Temperature
-40°C to 70°C (-40ºF to 158ºF)
Humidity
10-90% (non-condensing)
NEMA enclosure
type 4x compliant
Environmental Certification
IP67
Channel Support 2.4 GHz
1,2,3,4,5,6,7,8,9,10,11,12,13,14
Channel Support 5 GHz

U-NII-1 – Non-DFS channels 36 40 44 48
U-NII-2A DFS channels** 52 56 60 64
U-NII-2C DFS channels** 100 104 108 112 116 120 124 128 132 136 140 144
U-NII-3 Non-DFS channels 149 153 157 161 165

Management
Management

SNMP v1, v2c, v3
RFC 854 Telnet
RFC 1155 Management information for TCP/IP Based Internets
RFC 1156 MIB
RFC 1157 SNMP
RFC 1212 Concise MIB definitions
RFC 1213 SNMP MIB II
RFC 1215 A Convention for defining traps for use with the SNMP
RFC 1350 TFTP RFC 1643 Ethernet MIB
RFC 2030 Simple Network Time Protocol SNTP
RFC 2578 Structure of management information version 2 (SMIv2)
RFC 2579 Textual conventions for SMIv2
RFC 2616 HTTP 1.1
RFC 2665 Definitions of managed objects for the Ethernet-like interface types
RFC 2674 Definitions of managed objects for bridges with traffic classes, multicast filtering and virtual LAN extensions
RFC 2819 Remote network monitoring management information base
RFC 2863 The Interface Group MIB
RFC 3164 BSD Syslog Protocol
RFC 3414 User-based Security Model (USM) for version 3 of the Simple Network Management Protocol (SNMPv3)
RFC 3416 Version 2 of the Protocol Operations for the Simple Network Management Protocol (SNMP)
RFC 3417 Transport mappings for the Simple Network Management Protocol (SNMP)
RFC 3418 Management Information Base (MIB) for the Simple Network Management Protocol (SNMP)
RFC 3584 Coexistence between version 1, version 2, and version 3 of the Internet-standard network management framework
RFC 3636 Definitions of managed objects for IEEE Xirrus Private MIBs
Integration with Splunk for accurate search and analysis of intra-organizational IT events
Netflow Export v9 and IPFIX compatibility allows for IP traffic statistics collection

Management Interfaces

Command line interface
Web interface (http / https)
Xirrus Management System (XMS)

Standards
Wi-Fi Protocols
IEEE 802.11a, 802.11ac, 802.11b, 802.11d, 802.11e, 802.11g, 802.11h, 802.11i, 802.11j, 802.11k, 802.11n, 802.11u, 802.11w
Wired Protocols

IEEE 802.3 10BASE-T, IEEE 802.3.u 100BASE-TX , 1000BASE-T, 802.3ab 1000BASE-T
IEEE 802.1q – VLAN tagging
IEEE 802.3ad – Link aggregation
IEEE 802.1d – Spanning tree
IEEE 802.1p – Layer 2 traffic prioritization
IPv6 Control – Increase wireless device density through control of unnecessary IPv6 traffic on IPv4-only networks
DHCP option 82
* AP requires a future software release to support 160 MHz bonding
** DFS channels will be available upon regulatory certification
Comparision:
Xirrus Indoor Access Points
Model
XR-320
X2-120
XD2-230
XD2-240
XD4-130
XD4-240
XA4-240
Wi-Fi Radios
2
2
2
2
4
4
8
BLE Radio
No
No
Yes
Yes
No
No
No
Total Radios
2
2
3
3
4
5
4
Wi-Fi Technology
2×2 802.11ac Wave1
2×2 802.11ac Wave1
3×3 802.11ac Wave2
4×4 802.11ac Wave2
3×3 802.11ac Wave1
4×4 802.11ac Wave2
4×4 802.11ac Wave2
Antennas
Internal
Internal
Internal
Internal
Internal
Internal
External
Software Defined Radios
N/A
N/A
Yes
Yes
Yes
Yes
Yes
Controller
Integrated
Integrated
Integrated
Integrated
Integrated
Integrated
Integrated
Uplinks
1–1GbE
1–1GbE
2-1GbE
2-1GbE
2-1GbE
1-2.5GbE + 1-1GbE
1-2.5GbE + 1-1GbE
Max Number of Clients
512
512
480
480
780
780
960
Total Wi-Fi Bandwidth
1.2Gbps
1.2Gbps
3.9Gbps
6.9Gbps
5.2Gbps
13.8Gbps
13.8Gbps
Example Uses
Hotel/Dorms/ Offices
Hotel/Dorms/ Offices
Offices/Classrooms/ Hospitals/
Retail
Offices/Classrooms/ Hospitals/
Retail
Dense Offices/Classrooms/ Conference rooms
Dense Offices/Classrooms/ Conference rooms
Convention Centers/Airports/ Train Stations
Xirrus Outdoor Access Points
| Model | XH2-120 | XH2-420 | Outdoor Enclosures |
| --- | --- | --- | --- |
| Wi-Fi Radios | 2 | 2 | Up to 4 |
| BLE Radio | No | Yes | Varies |
| Total Radios | 2 | 3 | Up to 5 |
| Wi-Fi Technology | 2×2 802.11ac Wave1 | 4×4:4, 802.11ac Wave 2 | 802.11ac Wave 1/Wave2 |
| Antennas | External | External | Internal |
| Software Defined Radios | Yes | Yes | Varies |
| Controller | Integrated | Integrated | Integrated |
| Uplinks | 1-2GbE | 1-2GbE | Up to 3.5GbE |
| Max Number of Clients | 512 | 512 | Up to 780 |
| Total Wi-Fi Bandwidth | 1.7Gbps | 6.9Gbps | Up to 13.8Gbps |
| Example Uses | General outdoors/ Stadiums/Arenas | General outdoors/ Freezers/Arenas | General outdoors/ Stadiums/Arenas |
Core Technology:
Wireless that is 4X better.
Organizations depend on high-bandwidth for voice, video, and data to and from mobile devices. Today, more than ever, you need high-performance wireless. We deliver it. Our wireless solutions provide wired-like reliability, superior security, and they perform under the most demanding conditions.
The Cambium Network Xirrus Way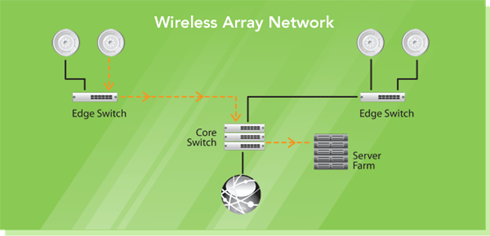 Let's face it, the conventional method of deploying thin APs tied to central controllers are failing under the load of 802.11n and will completely collapse with the introduction 802.11ac and 802.11ad. Like the switching market learned some time ago, it's ridiculous to force all network traffic into a single box. This creates traffic jams and single points of failure.
The Other Way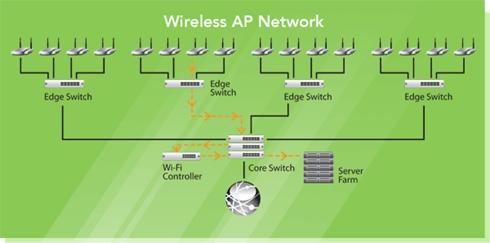 The best way to deploy wireless is with a distributed architecture with multiple radios and directional antennas per cable drop. This is how the cellular industry solved capacity issues in the late 1990's. By placing more radios into each cell tower, they gained created capacity and coverage per location. This enabled the industry to keep up with demand while saving them enormous amounts of cash.
So that's what we did. Our distributed, multi-AP solution is the most powerful, scalable, and trusted wireless platform in the industry. It's easier to deploy. Is more cost effective. And can grow as performance and capacity change.
Dense modular APs
Conventional APs contain two radios. The wireless bandwidth available on these radios is shared amongst all devices. The more devices, the less bandwidth available to each device.
To ensure sufficient bandwidth, more radios are required. You can either add more two-radio APs or you can add more radios per AP. We chose the better approach. Incorporating 2 to 16 modular APs per Array, we get much greater bandwidth to service more devices. We also get significant savings in the number of APs, cable drops, switch ports, and labor costs.
Directional antennas
Fact of the matter is national communications agencies limit the amount of energy a radio can transmit, which restricts the coverage area of that radio. Conventional APs utilize Omni-directional antennas to transmit its wireless signal in a 360-degree pattern – similar to a light bulb – limiting the coverage area.
Wireless Arrays are better in that they focus that same amount energy in a specific direction – similar to a flashlight – giving a much greater distance than those conventional APs. Again, this results in far fewer APs per deployment – typically by 75%.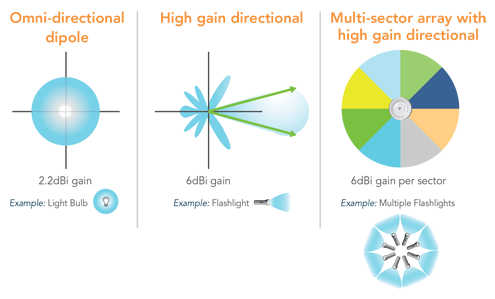 Distributed intelligence
Traditional wireless architectures consist of thin APs connected to a central controller. The controller resides in the backend of the network and performs control, security and management functions for multiple (often hundreds) of APs. The three biggest issues with this approach are traffic congestion, single point of failure, and unencrypted data from the AP to the controller.
Our approach integrates the controller function into the Wireless Array to distribute the intelligence, much like wired edge switches. By distributing the network, you get better performance and encryption all the way out to the edge. What's more, our approach simplifies the deployment, making it more flexible and cost effective.
What does it mean to you
There are numerous advantages to our approach:
Designed for pervasive enterprise coverage, not just hotspots
Designed for density of BYOD, not just 10 people in a conference room
Designed for multi-media and critical applications, not just email and web browsing
Designed to be adaptive and upgraded as requirements grow, not replaced as technology changes
Designed to lower total cost of ownership by requiring less equipment and infrastructure, not more
Key Technologies
Our Wireless Array platform enables far superior functionality, capacity, and upgradability not possible with conventional AP offerings. We make it possible for your workforce to communicate when and where is optimal for them and your customers.  By improving communications, you improve productivity and profitability.
The following critical technologies make it possible to meet the rapidly evolving requirements for a robust wireless network:
Modular AP system
Integrated controller
Multi-sector antenna system
Dedicated security monitoring
Dedicated wireless backhaul
Radio optimization management
Resource assurance management
Device optimization management
The exploding growth of tablets and smartphones is constricting today's wireless networks. Mandating infrastructure upgrades. Normal approach has been to add more and more APs to grow capacity, but this means costly network changes.
Integrated controller
We have integrated the controller functionality into each Wireless Array. We provide a host of functions, including high performance packet processing, networking, security processing, RF control, RF monitoring, inter-Array coordination and network management.
By placing the intelligence and packet processing at the network edge, you will gain several benefits, including:
Linear scalability – Capacity is incrementally added to the network by simply adding Arrays, as opposed to adding entirely new, expensive controllers when their AP limit is reached
Policy enforcement – With intelligence and processing distributed in each Array, security and performance policies can be applied with greater efficiency directly at the network edge as opposed to centrally
Easier installation – With autonomous operation, Arrays integrate to the network infrastructure similar to a switch as opposed to a thin AP which is dependent on the connection to a central controller
High resiliency – Each Array operates as a standalone device with no dependency or single point of failure from a central controller
Superior network performance – By processing control and data traffic at the network edge as opposed a centralized location, traffic latency, jitter, and roaming times are reduced and better controlled
Multi-sector antenna system
The sectored antenna design of the Wireless Array provides a superior level of RF control within the system compared to traditional wireless solutions. RF resources can be more optimally managed with this design compared to conventional Omni-directional antenna systems in areas of channel allocation, interference mitigation, and user performance.
A sectored antenna system creates slices of wireless coverage. Each slice uses a unique channel and clusters devices. This approach creates greater physical separation between sectors and devices on a given channel as opposed to Omni-directional antennas that transmit RF in all directions. Directionality of the sectors isolates radios on adjacent Arrays from interfering with each other. This together with appropriate channel design allows the reuse of the same channels by adjacent Wireless Arrays. Channel reuse is critical for a wireless network to operate at high capacity since only a limited number of channels are available, in particular with only three non-overlapping channels in the 2.4GHz band.
With our approach, you get higher RF gain. It transmits stronger signals to the wireless clients and correspondingly receives weaker signals from them since antenna gain works in both directions. Stronger signal provides better communication data rates for a client at given distance, as well as better operational range.
Dedicated security monitoring
Another costly network component found in conventional offerings are security monitors. Unlike the competition, we have integrated a wireless threat sensor into each Wireless Array, making it possible to have a dense design without compromising radio resources for servicing users.
Most offerings are restricted since both radios in the AP are typically required for servicing users – one operating at 2.4GHz and one at 5GHz. To perform security-monitoring functions, additional APs must be added to the network or one of the two radios must time-slice between servicing users and performing security functions. Time-slicing reduces the bandwidth available to servicing users and is significantly less efficient performing scanning functions as opposed to a dedicated radio resource.
By default, a dedicated monitoring radio in our Wireless Arrays continually scans the RF environment 24x7 covering all Wi-Fi channels in about 10 seconds. When called upon, it can perform additional functions focused on a given channel or threat as required. These functions do not interrupt the servicing of user traffic on the Array in any way.
Functions of the Array's monitor radio include:
Wireless threat/attack detection for wireless IDS/IPS (Intrusion Detection/Intrusion Prevention)
Rogue AP and ad hoc station detection, classification, and mitigation
Spectrum analysis providing performance, interference, and error information across all Wi-Fi channels
Wireless packet capture on any Wi-Fi channel
Proactive self-monitoring by functioning as a wireless client connecting to other radios in the Array
Dedicated wireless backhaul
The multi-radio design of the Wireless Array enables radios to be configured as a dedicated wireless backbone between Arrays. This functionality is referred to as Wireless Distribution System (WDS).
WDS eliminates the need to run wired uplinks to Arrays in areas where it may be impractical or cost-prohibitive to pull cable. All security and network policies are enforced across the backhaul links, the same as if the Arrays are connected via wired uplinks. Radio bonding allows multiple backhaul links to be aggregated, providing load balancing of traffic and fail-over capabilities for a uniform and fault-tolerant deployment.
With multiple radios available per Array, wireless backhaul can be configured on radios independent of those servicing users. Traditional enterprise APs with two radios are limited to one radio for a backhaul (mesh) connection. This radio must share the same channel as all other APs on that mesh link, severely limiting the total amount of bandwidth available for backhaul. With the Cambium Network Xirrus Array, backhaul connections are dedicated point-to-point links between Arrays and operate without performance compromise.
We can create up to four independent wireless backhaul links per Array and bond up to three radios together in for each link. Using 450Mbps 802.11n radios, each backhaul can offer up to 1.35Gbps of total Wi-Fi bandwidth. The connections support 802.1d Spanning tree bridging services for failover and link redundancy, including with the Array's wired interfaces.
Radio optimization
The multi-radio and directional antenna design of our Wireless Arrays provide significantly greater control of RF design and management compared to traditional APs. All radio resources can be individually controlled for band selection (2.4GHz or 5GHz), transmit power, and channel allocation. Control can be done either automatically or manually.
Resource assurance
The distributed design of the Array provides a level of processing power and intelligence not available in traditional thin AP designs where much of the resources reside in a centralized controller. By placing these resources at the network edge, the Array can apply proactive and pre-emptive monitoring of operational resources to detect and respond to issues when they occur.
Device optimization
The multi-radio architecture of the Array provides a high level of flexibility in allocating Wi-Fi users and devices among system resources to optimize overall performance. As wireless is a shared communications medium, clients on a given radio resource affect the performance of others using the same resource.