Xirrus Network Services

The explosion of mobile devices such as notebooks, tablets, and smartphones has led to a increased dependency on wireless networks for business-critical services. Wi-Fi is quickly becoming the primary network connection of choice for workers everywhere. It is now a "must-have" technology for organizations, regardless of how large or small.
Delivering the right set of network services is critical to the success of any wireless network. Users need adaptive and flexible services that can be customized per user, device, and application. These services need to scale as the network expands. However, traditional central controller-based architectures can't scale and are failing under the loads of today's mobile devices and applications.
Our modular approach delivers wireless network services by supporting policy creation, enforcement, and management across a distributed environment that is controlled at the network edge. With a high performance architecture coupled with a robust policy engine in every device, Xirrus has the proven capability to deliver enterprise-grade Wi-Fi service across the complete range of environments from basic to extreme density.
Learn more about our services…
Security Services
Guest Services
Video and Voice Services
Location Services
Performance Services
Monitoring and Analysis Services
Security Services:
Security is a key component of any wireless network strategy. Wireless networks offer unprecedented mobility for users, but proper steps must be taken to ensure the security of the Wi-Fi network. Xirrus offers the most secure Wi-Fi in the industry. Thanks to Xirrus' unique architecture and advanced security features, Network administrators can deploy Xirrus Wireless Networks knowing their wireless networks be as secure (or possibly more so) than their existing wired network.
When using wireless networking, Enterprises are concerned with securing key business apps while enabling mobility & access via devices out of IT control. Xirrus' security feature sets fill this need.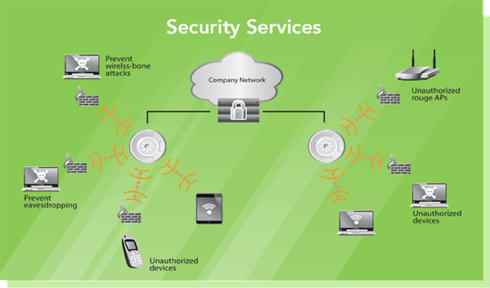 Features
Xirrus has several advanced features for addressing today's wireless security needs. In addition to supporting all of the standard based security features such as WP2-Enterprise with AES and 802.1x authentication, Xirrus offers additional advanced features to make networks even more secure.
Dedicated threat sensor
One of the key advantages of the Xirrus multi-radio architecture is the ability to dedicate radios to specific network functions. With the additional radios, one of the radios can be set as a dedicated threat sensor to provide 24/7 intrusion detection. Most Wi-Fi vendors do intrusion detection by using time slicing – using the radios to scan for threats some of the time and then to service clients some of the time. Time slicing creates a security hole though and is not 100% secure. With the Dedicate Threat Sensor, each Array provides 24/7 support ensure the networking is completely save.

WIDS/WIPS
The Xirrus Wireless Intrusion Detection/Wireless Intrusion Prevention system leverages the dedicated threat sensor to provide best in class security. With the dedicated threat sensor, along with detection mechanisms on the other Xirrus radios, the Array will detect rogue access points as well as the most common Wi-Fi attacks (e.g. DoS). Furthermore, in addition to detecting security threats the Array can actively shield rogue devices to be sure users do not inadvertently send key data to a rogue device.

Full line rate encryption
Each Array contains a stateful firewall to allow unwanted traffic to be blocked at the edge. The Arrays firewall can be set to block traffic based on source and destination information, as well as port number and protocol type. The Array firewall can filter Layer 2 - 4 traffic parameters, and each Array can be customized to fit specific need for the location where the Array is located (i.e. the same firewall rules don't have to be applied across the entire network if it doesn't make sense). Firewall filter list can be applied to global to the whole Array, or a unique firewall list can be created for each individual SSID.

Policy enforcement
In addition to being able prevent unwanted users and traffic from entering the network, the Array also provides seamless policy enforcement to guarantee that authorized users only have access to the necessary network resources. With full 802.1x integration, the Array can enforce network access for specific user groups. The Array can also create groups based on device type or device operating system to control bandwidth limits or VLAN access. The Array seamless integrates with industry best-of-breed Network Access Control solutions to ensure that only devices that fit key criteria are allowed onto the network. Time of Data and Day of Week access can also be controlled to prevent users from getting on the network at unauthorized times.

Reporting
Besides doing a better job of detecting and preventing security threats, the Xirrus solution also excels at reporting and tracking this information. Each Array creates Alarm and Event notifications for different activity types. This information can then be sent to any external syslog server for processing. Also, using the Xirrus management system all of the data can be aggregated and reviewed in powerful reporting tool. Email notifications can also be created to notify the network administrator of any major network issues.
Benefits
Distributed security enforcement
Full integration of security features in every Array allows security to be enforced at the edge, where it belongs, rather than in a centralized controller at the core of the network. By embedding all of the security features in each Array, IT administrators can rest easy knowing policy enforcement is taking place at the edge of the network, spread across multiple devices without the single-point-of-failure risk that is inherent in a controller based architecture. Full performance encryption at the network edge enables the industry's highest densities and best client performance with no central controller bottleneck.
24/7 intrusion detection
Xirrus's security solutions provide the comfort of knowing that intrusion detection and monitoring are performed 24 hours a day, 7 days a week with a dedicated threat sensor. Rather than providing a partially secure solution with the use of time-slicing solution like traditional Wi-Fi solution, Xirrus takes security seriously and delivers the most secure Wi-Fi networks possible.

Seamless network integration
Xirrus security solutions fit seamlessly into existing network infrastructure with minimal changes required for network integration. Xirrus interfaces with existing RADIUS and NAC servers to enforce network access at the edge. Rather than having to implement unique network services just for the wireless network, the Xirrus Arrays can use existing systems to allow simplified management and lower cost.

Increased visibility
The distributed nature of the Array intelligence gives increased visibility across the entire Wi-Fi network. Each Array collects data statistics and reports the information to a centralized reporting engine to allow easy parsing data and review of the data. The Xirrus solution can notify the network administrator of major problems to allow proactive responses to cut off any major network issues before end-users are adversely affected. The Xirrus reporting capabilities can also be used for external compliance mandates (e.g. PCI, HIPPA) to show wireless usage and security history.
Guest Access Service:
A key use of wireless networks in many deployments is enabling guests (non-employee, non-member) to connect to the network for access to the Internet or other resources. Allowing partners, contractors, and visitors to access the network can be beneficial or even fundamental to business operations; however it cannot allow unbridled network access. Visitor and guest management facilities must be in place to support heterogeneous types of end users requiring network access. At a minimum, a network administrator will restrict access to confidential corporate information, but limiting traffic, time of day access, or certain device types may be desirable as well.
Xirrus provides a wide range of Guest Services to allow guests to be managed in the best way to fit the requirements of the network.
Xirrus has built Guest Services into its solution offering for easy integration with and minimal impact on existing network infrastructure, simplifying implementation for both existing or new wireless networks.
Captive Portal
The ArrayOS captive portal functionality, called Web Page Redirect (WPR), allows a guest to be presented with a web browser welcome screen before gaining access to the wireless network. The welcome screen can simply state the Terms and Conditions for use of the network, or can be used to control access to the network by prompting for a username/password tied to an authentication scheme. Visitor management for control of specific user access can be controlled on the Array itself or hosted on an external server.
Directory Integration
Many wireless networks require that the guest services be configured on the Wi-Fi network system itself with wired users using a separate system. The Xirrus Guest Services solution simplifies guest setup by integrating with the same systems used for the wired network. Rather than configuring multiple systems, changes can be made in one place with Xirrus Arrays enforcing the changes like a traditional wired Layer 2 switch at the network edge. Integration with existing user information via Active Directory and LDAP services are greatly simplified lowering equipment and support costs.
Policy Management
The Xirrus Guest Services solution allows customization to fit the specific requirements of the network. Bandwidth limits can be configured to ensure guest users do not overrun employee traffic usage. Restrictions can be placed on time of day access and day of the week access. Policies can be set to enforce use policies for different device types. For instance, a guest on an iPad may be given access to some types of data, but a guest on a laptop may be given broader data access. Policies can be set and enforced on a user, role, device, and time basis.
An advantage of the multi-radio design of the Xirrus Array is the ability to allocate different modular APs to different uses. Modular APs can allocated to specific SSIDs to give a more fair balance of the network resources. For instance with an 8-radio Array configured for Guest and Employee SSIDs, two of the modular APs could be mapped to the Guest SSID and the other six mapped to the Employee SSID. In this way, the majority of the Wi-Fi resources are reserved for employee use.
Benefits
Flexible Policy Enforcement
Securing key business applications and data while still enabling mobility and guest access is a top priority for network administrators. The flexibility of Guest Services within the Xirrus solution allow a wide range of policies to be implemented and enforced. The Array allows user, role, device, and time-based policies and enforcement. The policies can be centrally implemented and are enforced at the network edge with Xirrus' embedded controller in each Array.
Better Resource Allocation
Providing Guest Services is crucial with today's mobile workforce; however providing it should not come at the expense of employee access to the network. By allocating network resources in a fair manner, network administrators can provide guests the network access they need without compromising the performance or security of company employees and data. The ability to allocate Array resources to specific uses ensures guests do not overrun the network. By restricting bandwidth, time of day, and day of week access, guest access can be even further confined to fit the network's requirements.
Simplified Network Integration
Xirrus integrates seamlessly with existing network infrastructure such as RADIUS and Network Access Control systems. By integrating with the same systems used for wired infrastructure, policy enforcement is greatly simplified and network deployment cost is lowered. When new guest services need to be implemented, managing a single system is much simpler than managing two.
Highly Scalable BYOD Support
Xirrus multi-radio, distributed architecture ensures the ability to handle large numbers of users. As more guests access the network and bring in their own Wi-Fi devices, wireless networks will need to flexibly scale to handle the increased data traffic. Distributed enforcement, along with Xirrus high performance hardware, creates unparalleled support for Bring Your Own Device (BYOD) initiatives.
Voice and Video Services:
Different applications place unique requirements for support on a data network. In particular, video and voice are two key drivers of Internet traffic today. Both applications provide significant value as they enable communications, education, and entertainment, however they can present a number of technical challenges for network administrators to support.
Our scalable and flexible architecture makes it an ideal solution for voice, video, and advanced application support over wireless networks.  Moving beyond standards-based IEEE 802.11e / WMM (Wi-Fi Multi-Media) to set traffic prioritization, the resources in our wireless system can be controlled and tuned for optimal performance, in particular in challenging high-density environments.  This prioritization maps to the Array's wired network uplinks via 802.1p or Diffserv.
Voice
Voice traffic is inherently sensitive to latency and jitter on a network. For voice over Wi-Fi to work properly and co-esist with other multi-media nad data traffic, the wireless network must be designed to minimize these elements, support fast roaming, and deliver sufficient bandwidth and Quality of Service (QoS).
Our media-friendly platform supports sufficient wireless bandwidth for voice traffic to coexist with other data traffic types. Sufficient bandwidth minimizes congestion that could result in frame loss, latency, and jitter that is detrimental to voice quality.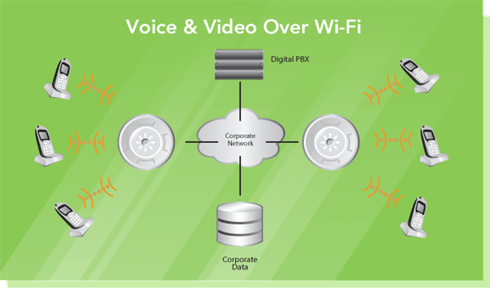 With an integrated controller in each Array, latency is minimized since all traffic and control processing is performed in the Array directly at the network edge. Most Wi-Fi architectures rely on a centralized controller that can negatively impact the latency on the network. In addition, our Arrays support multiple QoS levels allowing voice traffic to be given a higher priority than background data traffic. Specific radios can be dedicated to voice traffic to ensure dedicated bandwidth for voice users.
Video
Video is the #1 bandwidth consuming application on the Internet today. Video can present a challenge to support on wireless networks, as it is very bandwidth intensive and sensitive to packet loss. You need lots of bandwidth to support the video applications and ensure you have plenty of bandwidth for the other types of traffic as well.
With our multi-AP Wireless Arrays, you get up to 8X more bandwidth per cable drop compared to traditional enterprise APs. With proper network design, video traffic can be allocated across the multi-AP arrays to ensure best quality. What's more, the integrated controller in each Wireless Array provides the processing power needed to handle video traffic directly at the network compared to the central controller approach of traditional Wi-Fi networks that can quickly become a bottleneck if too much video is present.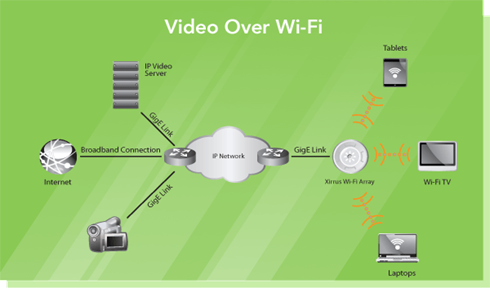 Each Array supports multiple levels of QoS to allow video to be placed at a higher priority than other types of data traffic. In addition, multicast optimization ensures the best video quality over wireless by converting multicast traffic to unicast traffic. This ensures all frames are sent at the fastest data rates and that corrupted frames can be resent.
Large file transfer

A common complaint about wireless networks is that large file transfers take too long compared to wired networks. Such transfers monopolize wireless bandwidth as available but ultimately must compete with other applications over the shared medium of wireless.
With from 2 to 16 modular APs, the Xirrus Array delivers up to 8X the bandwidth of traditional 2 radio APs enabling large file transfers over wireless to rival that on wireless networks. Large file transfers not only create congestion at the edge of the network, they can also create additional strain at the core. This can be a problem for wireless architectures that rely on a centralized controller for control and often data processing. Xirrus eliminates the controller bottleneck by embedding the controller function within each Array for full packet and encryption processing directly at the network edge.
Benefits
Improved application quality
The high performance Xirrus architecture ensures quality for applications such as video and voice can run uncompromised over wireless networks. Increased throughput and reduced latency and jitter are critical for these types of applications to operate. The distributed control and processing of the Xirrus Array solution ensures this and greatly improves support for these services as compared to centralized approaches.
Greater scalability
As user density increases, applications such as video and voice become increasingly challenged to operate successfully on wireless networks due to the shared nature of the technology. With significantly greater scalability, Xirrus delivers the ability to support many more video and voice users while still ensuring good quality of experience.
Reliable connectivity
The Xirrus wireless solution is inherently more resilient than legacy Wi-Fi architectures that depend on a central controller. Such centralized systems create a single point of failure – if the controller breaks, the entire network becomes non-operational. With fully distributed controller functionality, Xirrus can deliver the reliability required and expected for voice traffic.
Anywhere access
The extended range of Xirrus Arrays compared to traditional APs provides greater coverage for video and voice applications. With a properly designed network, services can be delivered even the most remote areas of a building allowing access anywhere for all types of communications services.
Location Services:
The benefits of mobility afforded by deployment of wireless services provide many advantages to organizations, allowing greater flexibility in where and when employees and equipment function. However for IT administrators and facility managers, keeping track of users and mobile assets presents a challenge. Locating mobile equipment or troubleshooting network connectivity on devices where when you don't know the location can be difficult.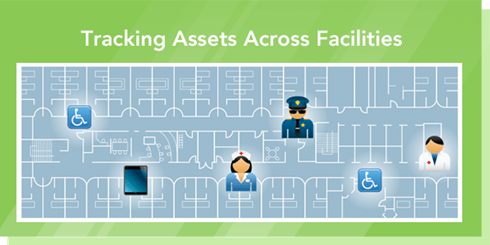 Xirrus Location Services provide organizations different options to locate wireless devices within the operation environment. These services can be used to locate missing equipment, track down stolen items, and assist in troubleshooting user issues. Asset management integrated with location services can greatly simplify and improve business process workflow.
Asset Tracking
For real time location services used for asset management, Xirrus has partnered with Ekahau, an industry leader in Wi-Fi tracking and monitoring solutions. By combining Xirrus' unique architecture with Ekahau's industry best location solutions, customers can track assets across a wide variety of devices and use cases. Ekahau Wi-Fi tags can be placed on a wide range of items including projectors, hospital beds, or even children. The tags communicate through the Xirrus Wi-Fi infrastructure to an Ekahau location controller which calculates location over time for any tagged device across a building or campus. With a properly designed wireless network, devices can be tracked to within 3-5 feet accuracy.
Integrated Location Services
Xirrus provides Wi-Fi client location services integrated within each Wireless Array or across the entire Array network using the Xirrus Management System (XMS). With multiple modular APs and directional antennas, the Xirrus Array offers a unique architecture that greatly benefits location of clients in the wireless network. Each modular AP provides a signal reading for each client, and the direction of the antenna provides information about the direction of the client relative to the Array. This information can be used to determine approximate location of a client relative to each individual Array, something not possible with APs using standard omni-directional antennas. More Arrays improve the accuracy of the client location identification and is provided by the Xirrus Management System (XMS).
To augment location services in the Array and XMS, Xirrus provides the Wi-Fi inspector client application. The Wi-Fi Inspector can be installed on any Windows laptop and used to pinpoint the location of a rogue AP or ad hoc client. In location mode, the Wi-Fi Inspector will guide the user to the location by displaying signal information and an audible Geiger counter type function.
Mapping
The Xirrus Management System supports mapping functionality to assist in managing a Xirrus Array deployment from a physical location perspective. Within the XMS, building floor plans and locations can be uploaded and the Arrays placed in their deployed location on the map. Based on the RF settings of the Array and the properties of the environment, the XMS will generate heat maps showing RF coverage patterns across the environment. Using these heat maps, network administrators can determine areas of potential RF coverage gaps. These maps are also used for the integrated location service functions within the XMS.
Surveying and Planning
Key to any successful wireless location service is proper wireless network design. Xirrus Wi-Fi Designer is an application created for lifecycle management of Wi-Fi network deployments. With Wi-Fi Designer, network engineers are able to execute predictive or active site surveys to determine Array placement during the wireless design process. Once the deployment is operation, Wi-Fi Designer can be used for post installation inspection to verify sufficient coverage in all areas. Proper Wi-Fi design is crucial to ensure proper wireless network performance and end user experience, as well as proper operation of location-based services.
Benefits
Better Accuracy
With the Wireless Array's unique directional antenna-based architecture, Xirrus is able to provide greater accuracy for location services than other Wi-Fi vendors based on traditional designs. When locating equipment, the more accurate the information, the more quickly assets can be located and business operations continue.
Reduce Inventory Management Cost
With accurate equipment location, Xirrus location solutions can help reduce inventory management cost. Many organizations such as hospitals, warehouses, and logistics facilities lose significant money and user productivity per year from lost inventory and manpower. Xirrus location services can help restore lost production, and are important when moving from fixed to mobile services.
Improved Workflow
For many logistics-based organizations, moving inventory and ensuring it is in the right place at the right time is a large task and critical to ongoing operation. Determining optimal patterns and timing for moving inventory, people, and supplies can benefit from the mobilized nature of Wi-Fi. Improving the visibility of asset location provides managers the ability to better plan processes and procedures that maximize resource utilization.
Improved Wi-Fi Lifecycle Management
Xirrus tools such as Wi-Fi Designer and Wi-Fi Inspector provide improved visibility and control of the Wi-Fi lifecycle, simplifying and improving the accuracy of the design, implementation, and ongoing operation of the wireless network. Proper planning and deployment of a wireless network is crucial to its successful operation and to ensure the network will successfully support location services.
Performance Services:
Wireless networks offer the promise of network access anytime, anywhere. But without a scalable, resilient network that can deliver sufficient performance at all times, this promise will fall flat with users – and at the most critical times. Xirrus has built the only wireless network solution with performance integrated into the design from the start to scale from light to very heavy usage, and able to meet the rapidly expanding usage requirements for wireless networks today.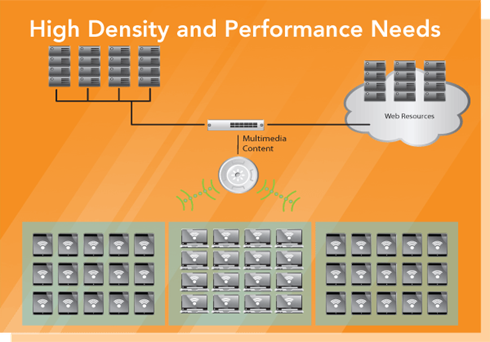 Xirrus' unique architecture is built to scale to meet from low to high wireless performance requirements. The multi-radio, directional antenna design provides the greatest coverage and throughput of any solution in the industry. This ultimately enables a wired like experience on a wireless network.
Application Performance
The applications run over wireless networks today are becoming increasingly sophisticated with rich media and cloud-based content. A key component of the Xirrus wireless solution that ensures robust application performance is a scalable design with from 2 to 16 radios per Array modular APs per Array and up to 8X the Wi-Fi bandwidth of traditional 2 radio APs. More bandwidth equates to faster application performance for users. Another key element is an integrated controller. With no centralized control point such as used in traditional wireless systems, Xirrus' solution minimizes traffic latency to provide improved response times for cloud-based applications that drive traffic deeper into the network. The distributed design and integrated Quality of Service improves quality for applications such as voice and video that are sensitive to latency and packet loss.
User Performance
Xirrus wireless solutions provide a number of options of optimizing the performance of the network based upon the type of user. Policies can be set and enforced based on a user's identity, role, or device type. Once identified, these elements can be used to determine the level of resources available to the user. Bandwidth limits ensure power users do not overrun resources and starve others. Policies can be set to enforce usage for different device types. For instance, corporate users on laptops may be given preferential service compared with tablets and smartphones which are delivered best effort service.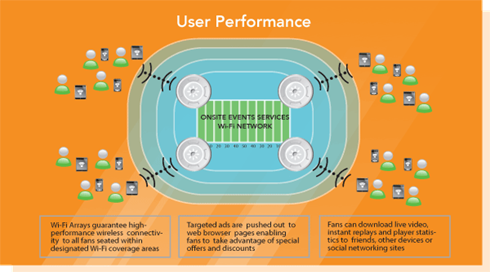 The multi-radio design of the Xirrus Array enables the ability to allocate modular APs to different users. For instance, one modular AP could be assigned to a keynote speaker at a convention and the other modular APs to audience members. This resource separation ensures sufficient bandwidth to the most critical user on the network. As another example, devices with slower technologies (e.g. 802.11b) can be separated from those using faster technologies (e.g. 802.11n) on different modular APs so as to not negatively impact performance for the fast users.
Network Performance

For Wi-Fi networks to deliver sufficient performance to users, there must be sufficient bandwidth available on both the wireless side and wired sides of the network. Traditional enterprise wireless solutions rely on a centralized controller for management and often packet processing resources. This approach creates a potential performance bottleneck as well as a single point of failure. As more APs and clients access the network, centralized controllers can become overrun and are expensive to upgrade. With the Xirrus approach, a controller is built into each Array. As Arrays are added to the network to scale, more processing power is added and the system linearly scales and no bottlenecks are created. Ultimately, the Xirrus Array integrates to the network like a wired Ethernet switch with all of packet and control processing at the edge of the network.
To further improve network performance, each Array enforces traffic policies directly at the network edge. An integrated stateful firewall and ACLs filter unwanted network traffic directly at the edge rather than traversing the network to the controller or otherwise.
Great Performance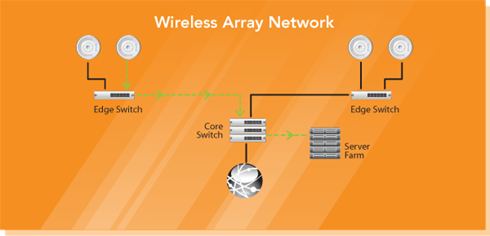 Bad Performance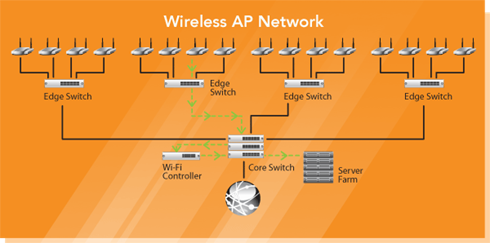 RF Performance
The multi-radio and directional antenna design of the Xirrus Wireless Array provides significantly greater control of RF design and management compared to traditional APs. Each radio within a Xirrus Array can be set to operate in either 2.4GHz or 5GHz, allowing the design to match client types today and adapt in the future as needed. This contrasts to traditional APs which are fixed in design with one radio in 2.4GHz, one in 5GHz, and no flexibility to change based on client requirements.
Xirrus Arrays support automatic channel and power control to appropriately configure RF resources for optimal performance. Proper RF design is essential to ensure best system performance, especially in high user density scenarios. Auto Channel scans the RF environment on a radio-by-radio basis, coordinated among all Arrays in the network, to determine the best channel of operation per radio. Auto Cell is an automatic, self-tuning mechanism that balances cell size between Arrays to ensure sufficient coverage, limit co-channel and adjacent channel interference among Arrays, and ultimately optimize system performance.
Benefits
More Productive Employees
With a high performance wireless network, employees are able to get more done. Mobility affords the opportunity to get work done from anywhere. By building a ubiquitous Wi-Fi network with sufficient performance and resilience, employees can get things done faster. If the wireless network is slow or unusable, employees cannot take advantage of mobile flexibility and productivity will negatively impacted.
Greater Range of Applications
New cloud-based and media applications are empowering employees to get more done and are more powerful than ever. Many of these applications are bandwidth intensive and often fail over existing Wi-Fi networks based on old designs and traditional architectures. By providing a high performance, scalable wireless network, users can use whatever applications they want and not be limited by the throughput of the Wi-Fi network.
Support for More Users
Wireless is becoming the preferred network connection for most users. With many devices such as tablets and smartphones, only a wireless connection is available. Being able to support the increased density of wireless users and their increasing bandwidth needs is crucial. Xirrus' high performance architecture is designed to scale to meet these increasing performance requirements.
Better End-user Experience
Mobility gives users flexibility in where they can access the network and makes them more productive. If the end-user experience is not enjoyable, users will complain and give up. By designing for sufficient performance and scale from the start, a Xirrus wireless network can ensure the end-user experience needed for broad adoption and productivity gains to justify wireless infrastructure investment.
Monitoring and Analysis Services:
Visibility into the operation and behavior of a wireless network is essential to maintaining proper performance and identifying and correcting issues before they become critical. The ability to monitor network resources all locations/sites and quickly analyze abnormalities translates directly to the successful ongoing operation of a wireless network and the acceptance and reliance on it by users.
Xirrus provides unparalleled functionality for monitoring and analysis of the wireless network to deliver increased visibility and troubleshooting expertise.
The distributed edge intelligence and dedicated monitor radio in the Xirrus Array provide unparalleled Monitoring and Analysis capability in a Xirrus wireless network solution.
Packet/Traffic Capture
Every modular AP in the Xirrus Array can be placed into a capture mode to capture wireless network traffic. In addition, traffic can be captured off any wired network interface. Packets can be analyzed using a standard packet analysis tools for understanding what may be causing connectivity or performance issues. With traffic capture available via every wireless device, a network administrator can get remote visibility across the entire network via the Xirrus Management System (XMS) rather than only the area where a traditional laptop analyzer is being used. In packet capture mode, the network administrator can specify the type of traffic to capture including filtering on elements such as management frames, MAC address, IP address, and protocol types. The capture can be run until a specified number of packets are captured or for a specified amount of time.
Spectrum Analysis
The Xirrus wireless solution includes embedded Spectrum Analyzer functionality in every Array that enables wireless environment monitoring distributed across the entire network. Each Array has a modular AP that can be dedicated for threat detection and spectrum analysis operation. Spectrum analysis allows network administrators to quickly determine if there are interference issues within the RF environment, whether Wi-Fi or non-Wi-Fi related. With an analyzer in each Array, network administrators have visibility across the entire network from the desktop. Remote access ensures an administrator is more likely to catch the issue as it is happening rather than deploying a resource to a remote site with a handheld analyzer.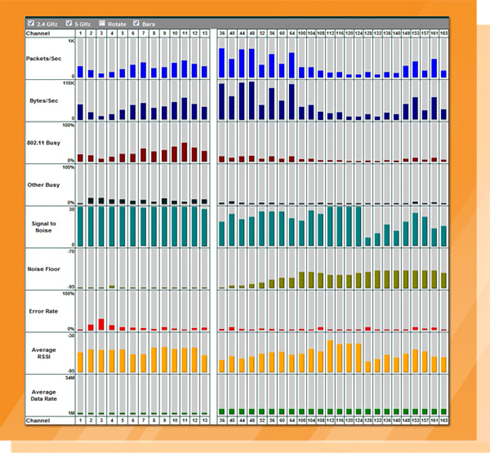 Event and Log Management
Xirrus Arrays and the Xirrus Management System (XMS) provide detailed information on network usage and events. Every Array tracks and reports on key events in the network as they occur. Notifications can be configured to be saved locally on each Array, sent to a central syslog server, and/or sent to the central XMS system. Emails can be configured to alert of major events – from the XMS or from the Array itself. The XMS aggregates network statistics to provide administrators visibility into events across the entire network. The XMS aggregates and stores this data to provide an understanding of network usage, client types, and types of data traffic over time for network planning purposes. XMS data can be viewed in easy to read reports that can be run once or set up to run on a scheduled basis. The reports can then be exported or sent out via email.
In addition, each Array has a built in Netflow analyzer. With Netflow, discrete data sessions and traffic types can be tracked across the network. The Array aggregates usage statistics and sends them to a Netflow analysis tool. Administrators are able to identify top talkers, usage statistics, and the most common types of data traversing the network.
Resource Assurance Management

The distributed design of the Array provides processing power and intelligence at the network edge not available in traditional thin AP designs with central control. With these resources, the Xirrus Array can apply proactive and pre-emptive monitoring of resources to detect and respond to issues. These capabilities are divided into the three areas. Station Assurance continuously monitors wireless clients for potential issues. If a client is detected encountering connectivity or performance issues, a notification is logged enabling the network administrator to respond to the issue proactively before the end-user complains. 
Radio Assurance executes local testing of Array radio resources and self-healing to ensure wireless service availability. The monitor radio periodically functions as a wireless client to detect problems with multiple options available for remediation. Finally, Network Assurance actively monitors the status of key network elements, including the Gateway, RADIUS servers, and DNS servers. If key resources are unreachable, notifications are logged and optionally proactive action performed to correct the situation.
Benefits
Fully Distributed Monitoring
Complete monitoring and analysis capabilities are built into every Array. With such functionality positioned across the network, administrators have complete visibility to issues without leaving the NOC. If an issue does occur, multiple options are available to troubleshoot and diagnose remotely with resources in every Array that can be applied to the task.
Faster Resolution Time
Xirrus Monitoring and Analysis Services greatly reduce the time to identify, isolate, and resolve issues. Resource Assurance Management functions will often identify issues before users notice. With distributed analysis, network administrators can identify issues from their desk, eliminating the time and expense of deploying resources to the physical location. With detailed logs and reports, administrators can quickly gain visibility to the issue and get the network back to its optimum working state.
Fewer Tools to Manage
With multiple, powerful analysis tools available in the Xirrus solution, network administrators ultimately have fewer tools to use. The build in functions can be used for a majority of the functionality required, simplifying training and lowering capital expenditures. Multiple administrators can leverage the functionality within the system simultaneously and at the appropriate location when needed.
More Scalable Solution
With localized intelligence in each Array, the monitoring and analysis functionality of the system scales directly as Arrays are added. In traditional centralized enterprise wireless solutions, the controller becomes a potential bottleneck for monitoring and analysis functionality, as well as a single point of failure. A Xirrus solution becomes more powerful as requirements grow and more components are added to the system.